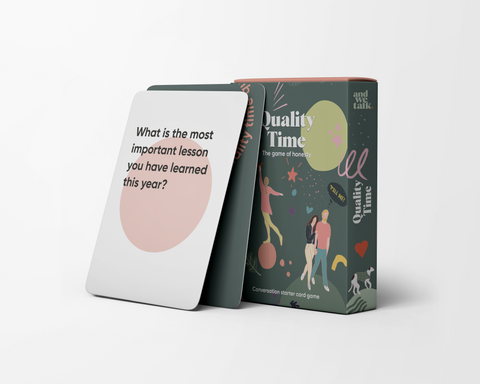 Quality Time — The game of honesty.
This product is also available in english, german, hungarian, polish and czech languages.
Take your conversations to the next level with Quality Time - an adventurous card game designed to spark meaningful conversation. Featuring 80 exciting cards, challenge yourself and your friends to explore new perspectives and gain insight into each other's lives! Get ready to be inspired!

At least two participants are needed to play the game, and after a while, you'll notice that you're not even playing anymore—just having conversations.

The game can be played in two ways:

In both cases, one player draws a card and reads the question on it.




One option is for the player to answer the read question alone, while the others listen, and then the next player draws a new card and answers it.




The other option is for all participants to answer the question read by the player one by one in order.




If you feel a question is too difficult and you're not ready to answer it, feel free to draw another card. The set-aside cards can be returned to later. There's no time limit for each answer, so be prepared for it to likely take a while.

Laughter is guaranteed, perhaps tears at times, but everyone can be certain that the game will provide an unforgettable experience.

Box contents: 80 cards.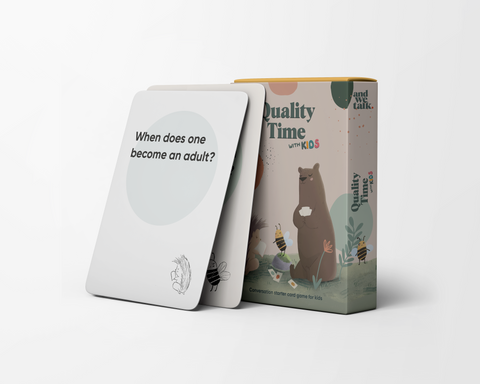 Quality Time Kids — Questions for the younger generation.
This product is also available in German, Hungarian, Polish and Czech languages.
Quality Time Kids offers fun conversation starters for families with kids. This 80-card game includes a variety of questions and ideas to help kids bond and express themselves. Get your kids talking today!

The questions can easily and gently open up a child who is fundamentally turning towards life in a healthy manner. However, it's important for us, as parents, to be well-prepared for these conversations.

The questions raise sensitive and important topics, thus providing opportunities for sensitive and important answers. The more honest the answers are, the more we can learn about what drives our children, how they see the world, what's good for them, and what's not.

There are no hard rules, no right or wrong answers in this game. The sole purpose is to focus on each other for a while and discuss things we might not otherwise talk about.

As guidance for the game, we have included some instructions for adults.

The game is recommended from the age of 5, but there are questions intended more for the 8+ age group, which we have marked separately. Of course, it's up to parents whether they pose these questions to younger children.

Box contents: 80 cards

Free shipping for orders above €30.





Our Mission
to create value and meaningful relationships.
to initiate meaningful and honest conversations.
to grow through play andconversation.
"The professional day exceeded all my expectations. In the official part, we played with associations, which led to huge laughter and personal stories. The most surprising thing for me, however, was that during the informal program after dinner, they asked me to bring down the cards because they wanted to continue playing."
At the end of the class, we usually play a game, which is great for developing speech perception and comprehension. Everyone answers a question, so we practice constructing analog sentences. We also improve our memory by reflecting on what each person answered.
"It contains seemingly simple but thought-provoking questions that sometimes shed new light on things one might think they already know and have said everything about. It's an interesting game not only with friends but can also be played alone – and it's worth it."
Delivery
When will my package arrive?
Orders will be delivered by either DPD, GLS or DHL courier services within 1-3 business days from the confirmation of the order. Generally, orders placed before noon will be delivered on the next business day.
You will be notified about the exact delivery time on the day of delivery via an SMS sent to the phone number provided when placing the order.
During holiday periods, the delivery time may be extended. For further details, please refer to our delivery terms and conditions.
Of course, you can, in which case the shipping cost will be displayed in the cart.
Returns
How can I return the product if for any reason I dont like it?
If you would like to return the product, you can certainly do so within 30 days from receiving the package, following these steps:
Package the product, preferably in its original box, and send it to the following address:
Webshippy
East Gate Business Park C/2.
2125 Fót
Hungary
Make sure to include your order number on or in the package so we can identify it.
Once the product safely arrives at the logistics center and is in good condition, we will refund the product's price to you in your original payment method.
It's important that we can only accept returns of unopened, undamaged products with the protective film still on the card.