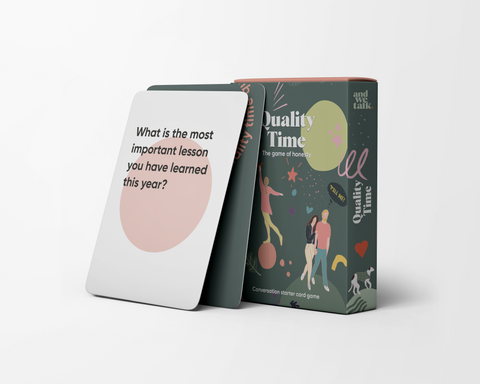 Quality Time — The game of honesty.
This product is also available in english, german, hungarian, polish and czech languages.
Take your conversations to the next level with Quality Time - an adventurous card game designed to spark meaningful conversation. Featuring 80 exciting cards, challenge yourself and your friends to explore new perspectives and gain insight into each other's lives! Get ready to be inspired!

At least two participants are needed to play the game, and after a while, you'll notice that you're not even playing anymore—just having conversations.

The game can be played in two ways:

In both cases, one player draws a card and reads the question on it.




One option is for the player to answer the read question alone, while the others listen, and then the next player draws a new card and answers it.




The other option is for all participants to answer the question read by the player one by one in order.




If you feel a question is too difficult and you're not ready to answer it, feel free to draw another card. The set-aside cards can be returned to later. There's no time limit for each answer, so be prepared for it to likely take a while.

Laughter is guaranteed, perhaps tears at times, but everyone can be certain that the game will provide an unforgettable experience.

Box contents: 80 cards.